Electrical, Cooling & Heating Services in Chatham, New Jersey
MDL Electric LLC Cooling & Heating regularly serves Chatham, NJ homeowners, who have come to love and trust us to keep their home feeling comfortable year round. Our dedicated team of service technicians are fully licensed and trained to handle any Electrical & HVAC issue that might arise in your home. With 24/7 service available, we strive to make sure that our customers always have properly functioning air conditioning and heating. Your comfort is our top priority!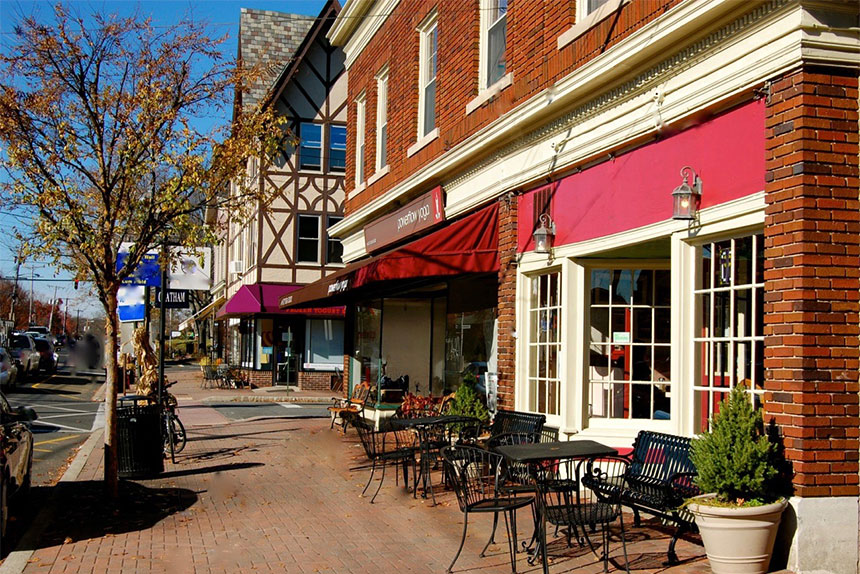 What is the value of an electrician?
Several hundred years ago electricity did not exist. However, today life without electricty would be unheard of as electricity is what "lights up the world". It is what powers our homes, schools, businesses, recreational activities, sources of entertainment and simply makes our every day life possible.
As a highly skilled craftsmen, an electrician can help a family regain light in their homes, help you save money by installing energy saving LED light bulbs, help you regain cool air by fixing your fan, rewire equipment or fixtures, inspect electrical components for safety, install wiring and lighting, as well as troubleshoot all sorts of electrical problems. This is what makes an electrician so valuable. As masters of their craft they have experienced and solved any and all kinds of challengs you can imagine.
At MDL Electric LLC, Cooling & Heating we have served hundreds if not thousands of families in Chatham, New Jersey as we have designed, installed, maintained, and repaired the electrical systems and products used in their homes and businesses. Our number 1 priority is to get you back to living your life as fast as humanly possible by ensuring your lights, equipment, and appliances operate safely and reliably.
Our Residential Electrical Services include:
Repairs - small and large
Emergency Services
Outlets, Ceiling Fans, Exhaust Fans, Chandeliers
Custom, Interior and Exterior Lighting Designs
Knob & Tube Elimination (MDL Electric LLC, Cooling & Heating specializes in the elimination of knob & tube wiring
Landscape Lighting
Service Upgrades
Generators (MDL Electric LLC, Cooling & Heating specializes in the installation of home generator systems & Maintenance)
Maintenance Renovation Wiring
Troubleshooting
Smoke Alarms & Carbon Monoxide Detectors
Solar Panels
Smart Home Lighting and Climate Controls
Any electrical service for your residential needs
New cooling & heating systems, replacement & service
Installations & maintenances of furnaces
Our Commercial & Industrial Services include:
Emergency Services
Ballast & Bulb Replacement
Interior and Exterior Lighting
Energy Saving Lighting Solutions
Service Upgrades
Generators
Computer Wiring
Security Camera System Installations
Troubleshooting
Service & Maintenance Agreements
Surge Protection
Fire Alarms Systems
Parking lot lighting
Solar Panels
Contact MDL Electric, Cooling and Heating right away to schedule service so we can help you solve all your Electrical Needs
What is the importance of heating and cooling?
We all know that having a properly functioning heating and cooling system is of paramount importance. During the harsh, cold winter season having a warm house or apartment for your family is crucial. Having to suffer through freezing temperatures in your own home is not in the question. The last thing a parent wants to see is their child shivering, trying to sleep but unable to due to the heat not working or cut off completely. Be prepared and have your furnace repaired or replaced so that you and your family are well equipped to face the cold winter months.
As per cooling, on a scorching hot summer day no one wants to have sweat dripping down their forehead, neck and back. This is very uncomfortable and can cause many of us to have a musty odor because of our bodies being soaked in all our own sweat. This is why having a properly functioning air conditioning system is so important.
Contact MDL Electric, Cooling and Heating right away to schedule service so we can help you solve your Heating and Cooling Needs
When You're In Need of Central Air Conditioning Repair, Central AC Installation, or Central Air Conditioning Maintenance Hire the Best Heating and Cooling Company in Chatham New Jersey
Many times in life we forget about our Central AC system and think it will last for years. But when it stops working like it should and your family is so hot and sticky from the burning heat, that's when we get the call. Don't let that happen to you. Be prepared for the hot summer months and get your Central air conditioning system installed, repaired or upgraded ahead of time.
We guarantee that our highly efficient air conditioning system installed by our highly skilled and trained experts will save you money by reducing your monthly electricity costs. We settle for nothing but the best as we ensure we install ac systems that are the top of the line, top performing and efficient units. Our air conditioning services include:
Central Air Conditioning Installation Central Air Conditioning Maintenance Central Air Conditioning Repair Air & Water Systems Balancing Air Duct Cleaning Air Quality Testing Attic Insulation Installation Attic Ventilation Installation Basement Insulation Installation
Get Your Boiler Repair, Furnace Repair, Heating Repair, Heating Installation, or Maintenance Done Right by True Experts
No heating issue is too small or too big for us to solve. Having worked in this industry for 20+ years, we have encountered various heaters including heat pumps, furnaces, boilers and even conventional heaters. Therefore, we are in the best position to assist you in choosing the right system will meet all your heating needs.
We are here for all your boiler repair and furnace repair needs in Chatham. We offer customized heating installation services. We understand properties have different layouts and that families have different needs as well as preferences when it comes to comfort. This is why our MDL Electric Cooling and Heating professionals and experts offer the most customized systems, based on the needs and preferences of our valued clients. Our heating services in Chatham include:
Boiler Installation
Boiler Repair & Conventional Electric Water Heater Installation
Conventional Gas Water Heater Installation
Conventional Water Heater Installation
Crawl Space Encapsulation, Insulation & Ventilation Installation
Dryer Vent Cleaning & Installation
Drywall Installation
Ductwork Insulation, Sealing & Installation
Exhaust Fan Installation, Replacement & Repair
Furnace Installation, Maintenance & Repair
Gas Appliance Connection
Gas Burning Fireplace, Gas Furnace Installation
Gas Leak Detection and Repair
Gas Pipe Installation & Repair
Geothermal Heat Pump Installation and Repair
HVAC Inspection
Heat Pump Installation and Repair
Heating Installation, Heating and Cooling Installation, Maintenance and Repair
Insulation Installation
Oil Furnace Installation
Oil to Gas Furnace Conversion
Radiant Heating Installation
Smart Thermostat Installation and Replacement
Solar Water Heater Installation
Soundproofing Steam Fitting
Tankless Electric & Gas Water Heater Installation
Thermostat Replacement & Repair
Unconditioned Insulation Installation
Ventilation System Inspection
Ventilation Systems Cleaning
Ventilation and Ductwork Installation, Maintenance and Repair
Water Heater Inspection, Installation and Repair
Water Heater Replacement
Water Line Installation
Our 3 Step Process for helping you select the right heating size & installing it in your home
Our heating experts first conduct a survey of your home. This helps to determine the layout. With that information, we can then determine the perfect heating size for your home, in order to get the comfort levels that you deserve. Our professional heating installation experts in Chatham, NJ can provide you with all the guidance and information necessary to help you choose the right heating system. Our heating installation experts will then proceed to install your new boiler furnace carefully and precisely. This way, we are able to provide guarantees your new system will perform optimally and for long. Rest assured, you and your family will enjoy enhanced comfort levels for many years. Schedule Service
Why is MDL Electric Cooling and Heating the best Electrical & HVAC company for you to work with in Chatham NJ?
MDL Electric LLC, Cooling & Heating has been helping Chatham, NJ homeowners for over 18 years. Our mission is to create successful and lasting partnerships by exceeding expectations and gaining trust through exceptional performance.
We have been providing solutions tailored to each client, whether that be residential heating and cooling services or commercial heating and cooling services. We regularly provide HVAC services in Chatham, NJ, located in Morris County and surrounding areas with heating and air conditioning installation and repair, as well as generator installation.
When it comes to professional HVAC services in Chatham, New Jersey, you cannot just allow anyone to install your new heating system. With 20+ years in the industry, our
heating repair
experts have the right skills and expertise necessary to attend to all your heating needs.
We do not hire out our work to subcontractors. Our installation experts are our employees and must meet our cooling and heating system installation and quality standards. We possess all the required permits for the work we conduct in your home or business. MDL Electric Cooling & Heating is fully insured for Workers Compensation and General Liability.
Look, a heating system is a big investment, which is why you need experts to ensure that everything works accordingly. You need to work with seasoned experts such as MDL Electric Cooling and Heating who have installed thousands of heating systems around the area.
Our customers are always satisfied with the services we offer. Whether you need to install a new furnace or heater in your business or home, we will take care of it for you.
Our highly qualified team is the best for all jobs involving installation of heating systems. We handle your property with the same safety and care precautions we would use in our own homes. That is why you can always trust we will give you our highest quality work. If you have any questions or concerns, we are more than happy to help and offer our professional advice.
Simply schedule an appointment with us by clicking here.
We understand that our clients are busy people, which is why we are always ready to work when you are available.
Our team of skilled HVAC experts go above and beyond the call of duty to provide their customers with the best hvac services in Northern New Jersey. Our top priority is, YOU, our customer. Highest quality heating and cooling service designed to meet and exceed industry standards for safety and efficiency. We are here to help you in any HVAC project you have, no matter how big or small. We have gained a reputation in the industry of being known for our high quality, fast and dependable service. If you are looking for fairness and integrity we are here to help you.
Don't take our word for it check out some of our raving testimonials from several of our valued clients:
1. "Miguel and his team have come to our rescue with problems in our house more than once and I'm so grateful. They have been professional and helpful and quick to respond at all times, and not to mention reasonable with regards to cost. I feel lucky that we found someone so great to work with that is so reliable." - Lisa Astor 5 Stars
2. "Miguel and his team did a wonderful job! From the start, Miguel was very responsive and very professional. Everything happened as he indicated that it would." SG Pena 5 Stars
3. "Miguel and his crew were extremely professional. I had a project in 4 different floors in my house. They were very organized, detail oriented and cleaned after every day. They installed lights on the basement and a lamp over my laundry area and rip off all the old electric cables that improved 100% my basement. Overall, they are truly professional and organized crew. Thank you, Miguel!" -Briana Seferian 5 Stars
Don't Hesitate To Call Us For Any Of Your Electrical & HVAC Needs!